Back to resource list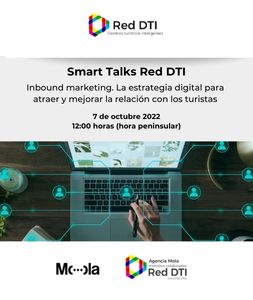 Smart Talk
11 de October de 2022
Smart Talk- Smart Tourist Destinations Network: Inbound marketing. Digital strategy to attract and improve the relationship with tourists 07/10/2022
Friday, 7 October 2022 at 12:00 p.m. (time on continental Spain) saw a new Smart Talk by the DTI Network on Inbound Marketing for Tourist Destinations and the bases for implementing a strategy.
This webinar was led by Ricardo Zamora, Director of Mola, an Inbound Marketing and Brand Content agency, a partner company of the Smart Tourist Destinations Network.
Content available only in Spanish.
Resource details
Axis/Theme
Share the resource