Volver al listado de recursos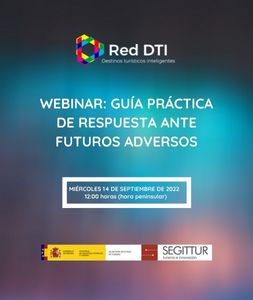 Webinars
14 de septiembre de 2022
Webinar Red DTI: «Practical response guide to future adverse events». 14/09/22
SEGITTUR, hand in hand with the destinations Benidorm, Finestrat, La Palma and Lorca, full members of the Smart Tourist Destinations Network, is publishing the Practical response guide to future adverse events, part of the collection of publications under the Smart Destinations Network, focused on providing tools and references to tourist managers so that they can respond to adversity quickly, effectively and in a coordinated manner.
Regardless of the nature and level of severity of an event, Smart Destinations have the capabilities to act in a coordinated and orderly manner (governance), using new formulas for public problems that have not been addressed up to now (innovation) and applying the appropriate digital technologies to prevent, react and learn (technology).
This guide is intended for managers of Smart Destinations and contains a series of references and keys to deal with these unforeseen circumstances, together with the experience of leading domestic destinations in adversity management. In order to select the seven types of adversities herein, we have identified 47 adverse events that took place in recent years in different tourist destinations around the world. Of these, 19 were located in smart destinations in Spain. With the aim of showing the capacity of a member of the Smart Destinations Network to face any of these adversities, we have selected four examples of real-life cases.
Benidorm, March 2020. Public health alert: infectious disease.
Finestrat, December 2016. Adverse weather phenomena: torrential rainfall.
La Palma, September 2021. Geological phenomenon: volcanic eruption.
Lorca, May 2011. Geological phenomenon: earthquake.
The experience of these four Spanish destinations is given with a brief description of the situation faced by the destination; its first consequences; how public authorities handled the situation; the tourist implications; and the solutions proposed to try to restore normality in the destination.
The guide also includes a reflection on how the crisis was managed: the destination analyses its cause and how to come out stronger through good management and the tools offered by the Smart Destinations Network.
The presentation was possible thanks to the participation of:
Carlos Romero, R&D+i Management at the DTI Network, SEGITTUR
Ana Fernández, Head of the DTI Network Knowledge, SEGITTUR
Content available only in Spanish.
«
Detalles del recurso
Eje/Temática
Compartir el recurso